At
Form & Function Physical Therapy
We help active adults and athletes recover from injuries and return to the activities they love. Whether you are a professional athlete recovering from an injury or an active adult looking to return to work, hobbies, or the gym pain-free, we are here to help you.
We understand that the last thing you want to hear is that an injury or nagging pain is going to have you sidelined for weeks or months as it heals. This is true whether you play sports for a living or just enjoy them recreationally.
At Form & Function Physical Therapy, we get it, and we will do everything in our power to help you experience immediate improvement after an injury and get you back to the lifestyle you want to live.
A few things you should know about
Form & Function Physical Therapy

PT
Form & Function Physical Therapy opened in 2014 in a 30,000 sq ft athletic training facility, specializing in helping people to reach their goals whether it be recovery from a sports injury or surgery, stay active and free from pain, improve balance, or recover from a concussion.
We want you to leave EVERY session feeling very confident and clear about your plan – we're NOTHING like some other practitioners that just take things to visit by visit due to not understanding your issue well enough to give an accurate prognosis, or hoping to keep you on the schedule indefinitely….when you leave EACH visit with us you will know exactly where we are headed and what must be done moving forward to reach your goals.
Our entire business model keeps our client's needs and wants in mind by offering different lengths of treatment appointments. In this way, you can get the time and attention, and quality of treatment you deserve, unlike In-network PPO and HMO clinics that require an incredible volume of patients at one time resulting in poor service and poor technical quality. We also aren't at the mercy of the insurance dictating how many sessions you need, or which treatments are applied by how well the therapist is paid by performing it. If this was your experience elsewhere, I'd like to apologize on behalf of the profession and tell you that at Form & Function Physical Therapy Physical Therapy our only concern is getting you better so you can get back to doing the things you love.
The owner and lead physical therapist is Trevor Field, PT. He developed a unique approach to physical therapy that unlocks the body's natural potential for healing. We call it F.A.S.T.—the Field Approach to Sports Therapy. This active approach combines traditional physical therapy, manual manipulation akin to chiropractic care and acupressure, and revolutionary treatments such as 830 Laser. The result is an immediate reduction in pain and inflammation along with improved tissue healing.
Trevor Field grew up in rural Central Minnesota, enjoying the outdoor activities and sports that were available in the area. He continues to enjoy fishing and pitching for several baseball teams in Orange County with the MSBL, NABA Elite Wood Bat Leagues. He received his Bachelor's degree from the University of Minnesota, and a Master of Physical Therapy degree from the College of St. Catherine. He has treated over 14,000 patients in his career and says that the essence of what he does is " help people that suffer from pain and injury unlock their full healing potential."
Trevor feels that what patients like most about him is his knowledgeability and ability to provide immediate improvement with most patients regardless of the condition. He utilizes a hands-on approach with most patients, but feels that identifying and eliminating the factors that prevent healing is what makes his methods of treatment particularly effective. He feels that working together with patients, and demonstrating you truly care goes a long way toward unlocking their healing potential. One of his favorite quotes comes from Henry Ford. "Whether you think you can, or you think you cannot, either way you are right."
Trevor is a frequent contributor to Therapy Article World on such topics as back pain, injury prevention, weight loss, supplements, fibromyalgia, stretching, plantar fasciitis, sports therapy, and much more.
Aloha my name is Cassidy and I am the Marketing Assistant and Operation Manager here at Form and Function Physical Therapy. I graduated from University of Hawaii at Manoa with my BA in Women Studies and a special focus in Women's Health. I have a passion for growing small businesses and helping people find the right places to get them the care they need. I think so many people can benefit from what we do here at F&F and I want to tell the whole world about it! When it comes to looking for the right place to help you I firmly believe the answers and right people who understand you are out there you just have to find them.
In my free time I enjoy trail running with my golden doodle, Winston and hanging out at the beach. You can also find me near the ocean doing some yoga and learning to surf on my longboard.
Hi everyone! My name is Karen and I am a nursing student at Chaffey College. My goal at Chaffey is to complete my Associate's Degree in Nursing in order to transfer out to a university. There, I will be working towards achieving a Bachelor's Degree in Nursing, which is where I will most likely be in the next few years. In the future, I look forward to becoming a Pediatric RN, which is something that I have been passionate about for several years now. My interest to work with children began after growing up around so many of my younger family members. I loved being able to help them, take care of them, and have a positive impact in their lives.
This is what drew my attention to Form & Function Physical Therapy. I was very interested in a position where I would be able to constantly expand upon my compassion, empathy, and communication skills. I also love being able to meet new people and work with others everyday in a team setting. Outside of work and being a full-time college student, I enjoy spending time with my friends and family. I often make trips to Long Beach (my hometown!) to visit them as much as I can. Some of my hobbies include traveling and exploring new places, hiking, and practicing different hair and makeup looks on myself and others. 🙂
Hi, y'all! My name is Alyssa, and I am currently earning my undergraduate degree as a Kinesiology Major, focusing on eventually achieving a DPT degree. I have always been very passionate about sports and being active, but my genuine interest in physical therapy began during my first year as a collegiate athlete. During that first year, I realized how effective physical therapy could be to heal the body and now want to be a part of that recovery process for other individuals who are seeking help.
Coming to work at Form and Function is such a rewarding experience as I enjoy being a part of the process of making a difference in people's lives and assisting them in improving their overall wellbeing. It is also encouraging to learn from an amazing staff who shows compassion and care for our patients.
When I am not in school or at work, you can often find me out and about riding my bike any day of the week (often making pit stops for coffee). I also enjoy things such as hiking, camping, road trips, and going to the beach. If you ever want to share your favorite song or Spotify playlist with me, I'm a huge music lover and am always eager to hear about or share some tunes!
P.S. This girl is going places and pretty soon she will be the DPT running the show! Keep an eye out for all the amazing things this super star hard worker is going to do.
As an Inland Empire native, Stacie first earned her B.S. Biology from UC Riverside and later graduated from Loma Linda University with her Physical Therapist Assistant degree.
Stacie loves that being a PTA provides the opportunity for her to get to know her patients on a personal level. She strives to cultivate meaningful connections with her patients and understand their "why". By doing this she hopes to educate, guide, and empower them so they can continue doing the things they love and "stay in the game"!
When Stacie isn't treating patients you can find her in the kitchen cooking new recipes or trying new restaurants. Good food and good company are her love languages. She enjoys staying active, going to the gym, snowboarding, and taking wheel throwing pottery classes at her local ceramics studio on the weekends.
Patrick is our amazing Sports Massage Therapist. He has been certified in manual therapy for over 7 years and in addition, he holds licensure as a Physical Therapist Assistant. He feels like this gives him a deeper understanding of who he is working with as well as more tools to deliver to his patients, giving him a unique advantage to traditional "spa massage" practitioners.
When not working, you can find me with my wife and son frequently involved in church activities, enjoying the outdoors and spending lots of time with the family. Everything I do is for them.
I grew up playing lots of sports including basketball, football, and baseball which got me interested in massage because it was such a huge part of recovery for me. I was so curious how massage helped the body because I found it helped me recover faster. Without knowing it, I found my passion for helping others heal and live a more pain free life using various manual therapy techniques. Beyond my license massage therapy certification, this passion led me to seek even more knowledge about manual therapy and understanding the body so I can give back and help more people. To name a few, I took courses in deep tissue massage, myofascial release, and posture analysis. Applying everything I've learned with my passion to help others live a better quality of life has truly been a blessing and I believe my calling. I feel honored to be joining a great team that is so skilled and that shares the same passion and goals I do.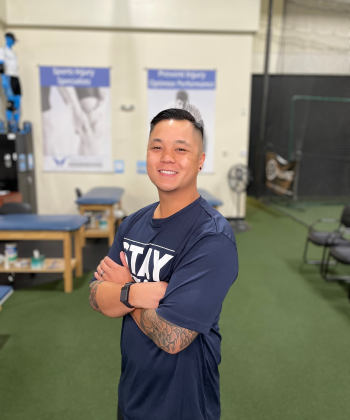 Mike earned his degree as a Physical Therapy Assistant from American Career College and has been working as a therapist since 2018. While attending ACC, Mike worked as a personal trainer for a big box gym where he developed a specialty for corrective exercise. He left personal training to become a therapist to help not only his mom who had been suffering from debilitating knee pain but to help many others who may have the same conditions and problems.
Mike gained experience in a variety of clinical settings treating patients of all ages with neurological disorders, traumatic brain injuries and orthopedic conditions. Throughout his career, Mike has remained dedicated in putting the needs and goals of patients first.
In his free time, Mike enjoys spending time with his family and living life to it's fullest. He enjoys all types of outdoor activities with his wife and sweet pitbull from hiking, paddle boarding, over-landing, cycling/triathlons, and riding his Harley Davidson Forty-Eight.